Aluminium (atomic symbol: Al) is a soft, light weight and ductile material.
| | |
| --- | --- |
| Melting Point | 660°C (1220°F) |
| Boiling Point | 2467°C (4473°F) |
| Density | at 20°C (60°F): 2.70 g/cm³ |
It is one of the most common deoxidizer being used in steel industry just like Silicon. However, it also serves the purpose to steel grain refinement and heating element in specific applications and conditions.
Aluminium is having high affinity towards dissolved oxygen in molten steel. It is well known for fast reaction with reasonably lower cost for deoxidation.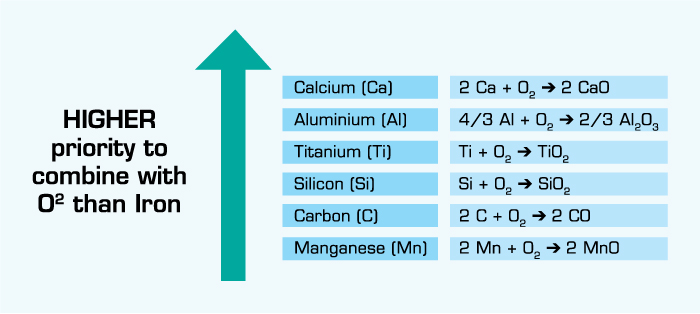 Improper use of Aluminium may lead to tundish nozzle clogging during casting. For molten steel with Aluminium addition, very often it is coupled with Calcium injection. This is to improve good castability and internal product quality.
Typical Chemical Analysis

Element
Al
%
>99.5%
OPERATING HOURS
---
Monday-Friday : 8:00 - 17:00  

Saturday : 8:00 - 12:00
HEADQUARTERS
---
7, Jalan Juruukur U1/19, Seksyen U1, Hicom-Glenmarie Industrial Park, 40150 Shah Alam, Selangor, Malaysia.